---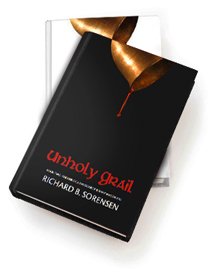 Unholy Grail

connects

all

the dots.
Beginning with the stories of
Judas Iscariot and Mary Magdalene
, the
Unholy Grail
story culminates in their contemporary heir, who becomes the Anti-Christ of the Apocalypse.

The plan for the end of days is crystallized in the life of Judas Iscariot; his identity as the "son of perdition" and the
true motives for his betrayal of Christ
are fully revealed. Two of the individuals closest to Jesus are then used to establish a satanically-inspired bloodline starting with the Merovingian Kings of France, continuing down through the ages, and culminating in a couterfeit Messiah.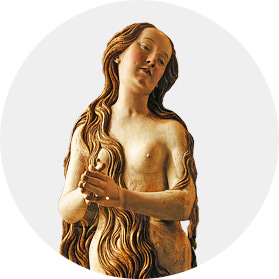 Book One
, the current volume of this two-book series, follows Judas from his ancestry, through his life and brief relationship with Mary Magdalene, to his ultimate demise. In
Book Two
, the modern-day descendent of Judas and Mary rises from obsurity to become the most powerful man in world politics.
Unholy Grail
thus
unites all of history
, from Biblical times to the present day.
---

Reviews
"Unholy Grail combines the historical intrigue of
The DaVinci Code
with the prophetic excitement of
Left Behind
to deliver a thrilling story of the history of mankind."
- Sam O'Neal, Managing Editor, Christianity Today International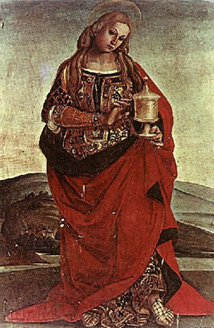 Amazon.com Reviews:
Well-researched historical fiction:
"I read this compelling book in only two sittings. It opens a bit slowly, so I put it down after a chapter or so, but when I picked it up again a couple days later, I got so engrossed in the story that I read straight through to the end. "Unholy Grail" gives an alternate theory to the DaVinci code. This author has the antichrist coming from Mary and Judas, not Mary and Jesus. The book follows the young life of the boy who would grow up to become Judas Iscariot. It offers convincing inner motivations for many of Judas's puzzling actions in the gospel accounts, such as decrying Mary's use of perfume to bathe Jesus' feet, betraying Jesus, and hanging himself."


Sticks with You:
"The Unholy Grail is one of those books that sticks with you. I read it nearly two years ago now and I can still picture, taste and feel the experience. The main characters are so very well-developed that the reader feels like they now know them, personally. There are elements of each of them that are in my own psyche; foibles, hang-ups, hurts that shaped them. They are people, even acquaintances to me now, not just characters on the stage of the gospel times.

I did not read the DaVinci code but saw the movie quite a while after I read Unholy Grail. Having already solidified my own perceptions of the historically related facts, I was, to say the least, unimpressed by DaVinci Code. The research undertaken by the author of Unholy Grail into the occult, religious and cultural views of the time are a tremendous asset to this story."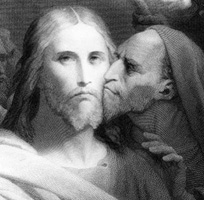 Compelling read:
"If you devoured The DaVinci Code, you're going to love Unholy Grail by Richard B. Sorensen. Unholy Grail explores the relationship between Mary Magdalene and Judas Iscariot which leads to the conception of the AntiChrist. Backed by extensive research by the author, the book builds a convincing psychological profile of Judas that explains his motives for betraying Jesus.

I read this book in two days - I was that engrossed. The story flows effortlessly and draws you in and before you know it, you're done and wishing book two was waiting for you. Book two promises to conclude the story by discussing the birth and rise to power of the AntiChrist. It's a great seasonal read and if you're a religion or history buff, it's a must-read."

Author Appearances & Media Reviews:
4/20/2011 - Cranston Herald Article - "Sorensen takes a different approach to Easter story"
9/17/2012 - Fox News Article - "Pastors brace for questions on Jesus' marital status after newly discovered papyrus"
9/21/2012 - Fox News Interview - "Did Jesus Have a wife?"
9/27/2012 - Comcast Feature Interview with Art Fennell - "Was Jesus Married?" and "Unholy Grail"
9/28/2012 - Cranston Herald Article - "Sorensen releases a novel of Biblical proportions"
9/19/2012 - Interview on The Biggs Show with host John Biggs - News Talk 1290 CJBK
9/20/2012 - Interview on WorldMag.com
9/24/2012 - Interview on the Busted Halo Show - Sirius Radio
9/25/2012 - Interview on the Morning News with Tara Granahan and Andrew Gobeil - WPRO Radio
9/26/2010 - Interview on the James Lee Show - KENW/KMTH-FM Radio
10/2/2012 - Interview on the John Clemens Show - IRN/USA Radio Network
12/20/2012 - Interview on The Biggs Show with host John Biggs - News Talk 1290 CJBK
Unholy Grail

is a winner of the Christian Choice
Book Award for Best in Christian Fiction.
- Xulon Press, 2008

Buy Book One

Buy Book Two
Book Trailer - Movie Clip:


Unholy Grail, by Richard B. Sorensen on Vimeo.
---

Site Guide
A bibliography as well as a number of general and book-related essays are accessible through the Essays, Book1 and Book2 sections above.
Follow Unholy Grail on Facebook
Follow Unholy Grail on Twitter
Contact the author
---

Site + Book Design and by Atelier LKS